Gas Fireplace Installation in Snohomish, WA
Everyone enjoys sitting by the fire on a cold night and wood burning fireplaces take a lot of effort and maintenance. A gas fireplace installation is the perfect addition to your home when you want to enjoy a fireplace without a huge time commitment. Push a button or flip a switch and your gas fireplace will immediately ignite with an adjustable fire. Many models even come with a remote control so you can control fan speed, flame heat and more.
For more information on our gas fireplace installation services or to schedule an appointment with one of our skilled technicians, contact us online or give us a call today at (425) 743-5000.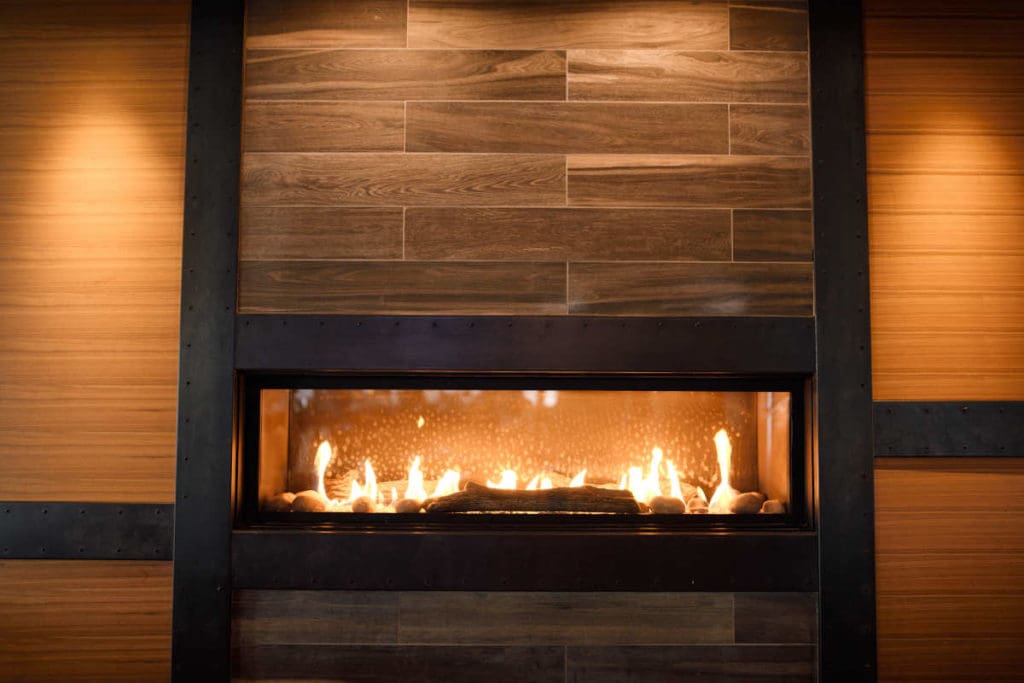 Benefits of Gas Fireplace Installations by All Heating
Our technicians at All Heating in Snohomish, WA believe that a gas fireplace is an excellent long-term investment for your home. The following are just a few of the amazing benefits of having a gas fireplace installed in your home.
They are better for the environment.
Since you control exactly how much gas you are using with a gas fireplace they are more energy-efficient than many other types of heating. You can also turn them off with just the flip of a switch. Gas fireplaces are more environmentally friendly than traditional fireplaces because they do not emit smoke from burning wood.
Ease of Use
Wood-burning fireplaces require a lot of effort acquiring the firewood and starting the fire to managing the burn. Adjusting the heat output of a wood-burning fireplace is difficult and requires experience and skill. A gas fireplace requires no skill or planning. You can turn it on with the flip of a switch and adjust the temperature with a dial or remote control.
Minimal Maintenance Needed
A wood fireplace requires a lot of maintenance between uses. You need to shovel out ashes, clean it, make sure your chimney is clean and monitor the condition of the wood. A gas fireplace requires minimal maintenance and almost no upkeep between uses.
Safety
Wood-burning fireplaces cause thousands of home fires each year. With a gas fireplace, you won't have any embers, sparks or smoke to worry about. You can leave the room for an extended period of time without having to worry about a fire starting. Gas fireplaces produce no smoke making them safer for those with sensitive respiratory systems.
Natural Gas Fireplace Installation 
Gas fireplaces come in a number of sizes and can even fit in small areas such as bathrooms. They also come in a variety of finishes and designs. If you are ready to move forward with a gas fireplace installation in the Snohomish, WA area, look no further than the professionals at All Heating. We'll help you select the size that is right for the application and then we'll install it correctly. We guarantee our service.
When you contact All Heating for your natural gas fireplace installation you can have the peace of mind knowing that your fireplace is safe, secure and in good hands. Call us today to schedule an appointment at (425) 743-5000.
Gas Fireplace Logs Installation
Gas fireplace logs are ceramic logs that look just like real wood. They have holes in them that allow a small amount of gas through, so they produce a steady flame when they are ignited.
Gas log installation is not a DIY project. Incorrect gas log installation can lead to a host of problems and could be dangerous. Call All Heating for a gas fireplace log or log free installation. We will get the job done right. 
Gas Fireplace Insert Installation
With a gas fireplace insert you can transition your old wood-burning fireplace into a gas system. While the installation may seem straightforward there are details that need to be done just right. That's why this is a job for All Heating.
We have the experience required for natural gas fireplace insert installation. We've worked with all types of fireplaces and gas fireplace inserts. We will walk you through your options and help you select a solution that is right for your home.
Count On All Heating for Your Gas Fireplace Installation
Call All Heating today for gas fireplace installation services. We are a leading provider of home services in the Snohomish, WA area. We guarantee our services. We pride ourselves on hiring the best technicians which is why all of our employees are screened, drug-tested and professionally trained. We are also committed to transparency. You never have to worry about surprise costs as we are always upfront about the cost of services.
Contact us through our website or give us a call at (425) 743-5000 for more information on our gas fireplace installation services or to schedule an appointment with one of our HVAC professionals. Our friendly staff is standing by to assist you.