Furnace Maintenance & Tune-ups in Snohomish, WA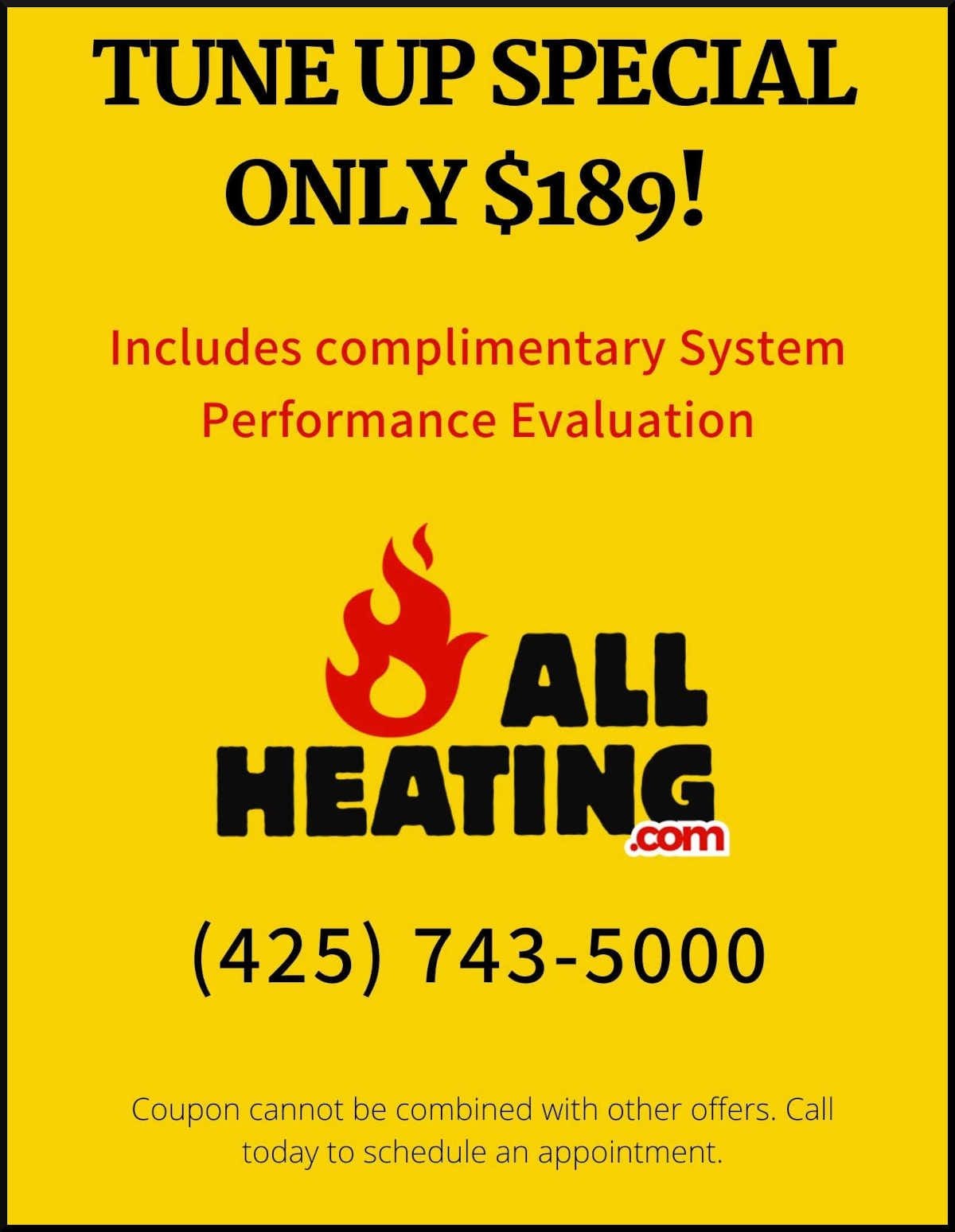 All Heating offers furnace maintenance and tune-up services and we maintain all systems according to the manufacturer's warranty. The product warranty outlines all necessary maintenance tasks for the heating system, and our HVAC professionals can complete these steps each year to keep your furnace running the way it should.
Completing maintenance tasks before the start of a new heating season improves system operations. The property owner won't have to worry about their heating system breaking down at inopportune times and leaving them exposed to extreme temperatures. Maintenance services can extend the life of the heating system and give the property owner a better return on their investment.
Contact us online or give us a call at (425) 743-5000 for more information on our furnace maintenance & tune up services or to schedule an appointment.
Seasonal Cleaning Services 
A furnace tune-up begins with a seasonal cleaning service. The technicians clean and remove debris from the system. They clean each component individually and eliminate all debris from components to ensure that they operate as expected. Technicians clean the interior and if applicable the exterior systems thoroughly and eliminate any dust, dirt, and leaves that have accumulated.
Complete Heating Inspections
Your technician will complete an inspection and also an estimate for any repairs that are needed.  We recommend having heating and furnace inspections and maintenance performed at least once per year to ensure that your system is operating safely and at peak performance.
Changing Air Filters
The air filters must be changed out frequently to prevent dust and other debris from building up inside the unit. Dust and debris can accumulate even if the system is not operating. The air filters are designed to capture debris as air circulates through the heating unit and the air filters should be changed regularly to ensure smooth operation.
With pets the air filter should be changed more frequently and additional cleaning services may be needed to manage debris, hair, dander, etc. An added air cleaner may also be a great option for pet owners.
Need to schedule an appointment for furnace maintenance service? Give us a call today at (425) 743-5000.
Knowing When to Replace the Systems
If your heating system isn't operating properly and requires many repairs give us a call. We'll discuss your options and determine if it's time to install a new heating system for your home. Our HVAC professionals will provide you with detailed information about new heating systems and help you find a unit that will accommodate your needs and keep your home comfortable.
We can provide an estimate for the new systems with all the labor and installation fees. If you need financing we offer several payment plans to help finance your new heating system including the monthly payments and a total cost.
Where to Get Furnace Services
All Heating provides residential property owners in the Snohomish, WA area with a variety of reliable services including maintenance, repair, inspection, and installation. We have decades of experience serving the local community and we guarantee all of our work. Get ahead of heating system maintenance before the start of the each season. Cleaning will eliminate dirt and debris accumulation from inside the unit which will improve efficiency and air quality. Our technician will test components and if a component is failing they can estimate and perform the repair that day.
For more information on our furnace maintenance & tune services in the Snohomish, WA area or to schedule an appointment, contact us online or call (425) 743-5000. Our friendly professionals are standing by to assist you.