Furnace Repair in Snohomish, WA
When you need local furnace repair in Snohomish, WA or the surrounding areas look no further than the professional team at All Heating. We are your local heating and furnace repair experts and we also offer trusted furnace installation and maintenance services. If you don't have heat in your home give us a call. We'll schedule your appointment and quickly get your house warm and cozy. We also offer 24/7 emergency furnace repair.  
Whether you need gas furnace repair or electric furnace repair our team has the skills and experience to complete your job quickly. Go with an HVAC company you can trust and leave your heating system problems to All Heating. 
For more information on our HVAC repair services or to schedule an appointment with one of our HVAC professionals, contact us or give us a call today at (425) 743-5000.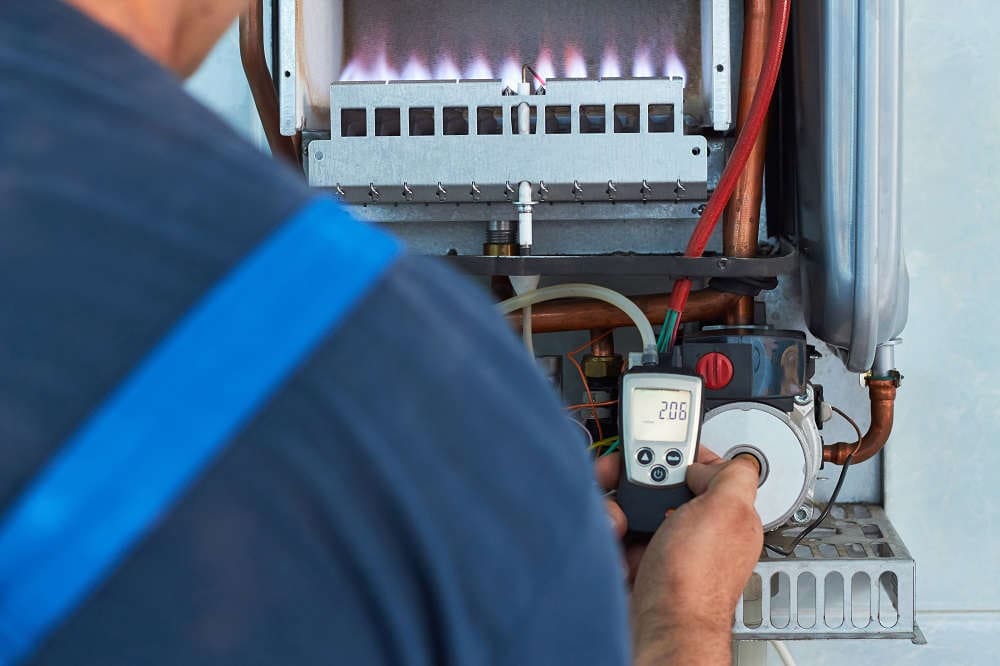 Signs You May Need Furnace Repair
When you need furnace repair services there are several signs you may notice. If you notice any of the signs below, give our team a call for heating furnace repair:
Your Energy Bills are Going Up
Your furnace could be to blame if your utility bill is rising. Faulty furnaces need to work harder than normal to heat your home. 
In doing so they waste energy trying to meet your needs. An overworked heating unit could be the cause of your high energy bills.
Odd Noises or Odors Coming from Your Furnace
When your furnace needs repairs it may run louder than usual. You might hear rattling sounds which means you have a loose component inside. You could also hear loud sounds that indicate a safety risk such as loud booms or bangs. 
It's possible that you might also smell gas coming from your furnace which could also mean your safety is threatened. If you hear or smell anything unusual coming from your heating system call our team at All Heating right away. We'll complete a thorough inspection to determine the issue and protect your safety in the process. 
Poor Indoor Air Quality
When your heater is failing you might also notice a decline in your indoor air quality. Your heating system circulates warm air throughout your home and if you have a dirty or problematic furnace your air quality may decline. 
You may need new air filters or there could be another issue with your furnace. Poor air quality can result in health problems and increased allergy irritation, so it's important to call for an inspection before the issue gets worse. 
Your Pilot Light Is Yellow Instead of Blue
A yellow pilot light could mean your safety is in jeopardy. Your furnace's pilot light should always be blue so if it's any other color, especially yellow, you should call for furnace repair right away. 
A yellow pilot light could mean your furnace is leaking carbon monoxide which is a poisonous gas. Schedule your appointment today to keep your home safe. 
Call Us for Emergency Furnace Repair
Furnace issues don't often happen at convenient times. All Heating is proud to offer 24-hour furnace service for when unexpected heating issues arise. Our 24-hour furnace repair service can get your heating system back up and running when you need it most. 
When you call us for emergency furnace repair service we prioritize your job to get a technician out as quickly as possible. Don't suffer in a cold home. Call All Heating for HVAC repair service any time of the day or night. As one of the leading HVAC contractors in Snohomish, WA and the surrounding areas we will be there to help with all of your heating needs.
Need Furnace Repair in Snohomish or the Surrounding Areas? Call Heating!
Look no further than our team of experts at All Heating when you need furnace repair service. We offer local repair, replacement and maintenance services in Snohomish, WA and the surrounding areas. You can also rely on us for emergency furnace repair service. We'll be here to take your call and assist you. 
Whether you need gas or electric furnace service our team has the knowledge and experience to get your job done quickly and efficiently. Go with a furnace repair company you can trust and call All Heating today!
Contact us online or give us a call at (425) 743-5000 for more information on our HVAC services or to schedule an appointment. Our friendly and professional staff are standing by to assist with all of your HVAC needs.